Lots of Android operating system apps are found in Play Store. But there are many apps that are hidden from the eyes of ordinary people. These apps have a great world called "Open source" where people get great apps for free but they are not available in the Play Store, and most of the time people do not reach the news of those apps. Today, we will be going to know about four great open-source apps but there are more. I will tell you to find a way to get all of them.
1. BLOKADA
While browsing online, we have to tolerate ads everywhere! Sometimes clicking on a link opens up five to six links at once and starts downloading a variety of apps or "Your smartphone is infected with viruses", such a bizarre message comes with a bitter vibration! BLOKADA will do a great job to get rid of such unwanted vandalism.
Although most browsers like UC Browser have their own "ad block" system, they are not useful in many cases. BLOKADA's is great there! You will get tired of seeing the notifications of blocked ads by BLOKADA. For all T2M URL Shortener blog reader, I recommend you turn off app notification for BLOKADA when you install it. So you can find more comfort while using it.
You Can download BLOKADA from here: https://blokada.org/index.html
2. OG Youtube
Smartphone user but do not use Youtube, it is not possible at all, rare case. So besides the official app of Youtube, there is another app named OG Youtube. It's totally like the Youtube app, but there is an extra option to download videos here which is not available on the Youtube app. You may get tired searching for youtube video downloader, and OG Youtube is the solution.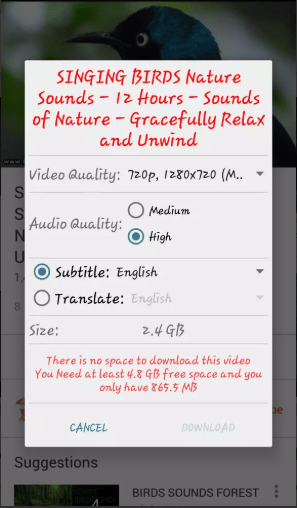 You can download low to high-quality video from here and mp3 format too. And most interesting thing is, the official Youtube app does not allow us to play something on background. But OG Youtube allows that. I mean you can listen to a video while doing something else in your smartphone.
You will get OG Instagram, OG Whatsapp who works same, allows you to download. Moreover, you can log in to two different accounts at the same time using OG Whatsapp.
You can download OG Youtube from here: https://ogyoutube.en.uptodown.com/android
3. Popcorn Time
Everyone has a bad experience while watching or downloading movies from the net! It is often seen that the sites are temporarily closed, or the link is not working or if a link is available, it may not have subtitles.
A wonderful solution to such problems is popcorn time! This app can give you high definition quality of all digital media (ie, TV series, documentaries etc.) The app will give you variety in the subtitle, you can choose whatever you like.
You can download Popcorn Time from here: https://popcorn-time.to/
4. F-Droid
Last for today but not the end. F-Droid will open the world for any app you need which is not available in Play store.  There are thousands of apps in Open Source and you will find them in F-Droid.
You can download F-Droid from here: https://f-droid.org/en/
The open source apps may not have an eye-catching view, but they do not have any comparison with utility or skill. Developers around the world are working to create an open online world for everyone so that people can enjoy free service from anywhere in the world. They see the open source apps as part of this open-world movement. There is nothing to earn, but it is an effort to come forward for the welfare of the people.
One of the features of open source apps is that their use is very simple and the apps also look but nice. We recommend you to stay safe while using open source software. Take a look at what things you are allowing the app to read from your phone. Because these apps are not verified by play protect, you bad people's may use these apps to attack you if you are not aware.
5. AdLock
If you want to efficiently block adverts, online trackers, malware, save on your data plan, speed up loading, and protect your privacy with just one application, then AdLock is for you. AdLock is a sophisticated standalone application for Android devices that is designed to provide a maximum adblocking impact while being extremely resource-efficient.
This makes AdLock one of the best adblockers for Android on this list because it does a good job of providing you adless internet experience. AdLock works systemwide and is capable of blocking commercials within mobile games, messengers, and other software. AdLock is fitted with a firewall to provide additional protection through complex phishing and malware protection features.
However, AdLock is not available for installation via Google Play Store. You'd ask why, and here's the answer: AdLock doesn't tolerate ads at all. There's no acceptable advertisement for AdLock by default, yet you can adjust it to meet your needs.
Get AdLock from the official website here: https://adlock.com/