What Is The Best Website Builder For Affiliate Marketing?
Affiliate marketing is one of the most discussed (and popular) ways to earn money these days. I mean, everybody does it: bloggers, influencers, business owners, content creators, and more. Whatever niche you can imagine, it can probably be linked to affiliate marketing.
But is it really that simple though? Does becoming an affiliate mean you can quit your day job and just let the money flow into your hands?
Not really. Affiliate marketing is not easy. And it isn't quick either. But when done right, it can really help your business move to the new stage. So, what you need to do is prepare to learn, be patient, and make sure you get the best affiliate marketing platform.
A Quick Intro to the Modern-Day Affiliate Marketing
So, let's figure out how affiliate marketing actually works. It's actually pretty simple: it implies promoting other business's services or products and earning commission on each sale they make thanks to you. Here's the first thing you need to remember: affiliate marketing isn't about you actually selling other people's product. It's about you providing information about the products and connecting potential customers with other businesses. If the connection is successful and the client makes a purchase, you get a bonus for that.
Why is affiliate marketing so big these days, you may ask? It's simple: this method of sales brings benefits to everyone. Your partners are happy because they make more sales. You are happy because you earn your commission. And the clients are happy because they get what they need without the hassle of looking for it endlessly.
When participating in an affiliate program, you can get a bit more than just a commission. First off, you get to earn an income without any financial risks or investments. Additionally, you can partner with multiple businesses at once and get several sources of income. Plus, managing your affiliate programs is quite easy. You don't have to create any specific type of content (since all your partners will probably have their own marketing strategies). So, you just get to do what you usually do and earn some extra money at the same time.
Becoming a successful affiliate partner requires time and effort. You need to be careful with the product that you choose to represent. Try to get something your audience (or customers) might be interested in or something you are familiar with. I mean, it's easier to promote a product you actually have some knowledge of. And try to avoid exaggeration: being honest with your readers/audience will grant you more chances to motivate sales.
Another important component of affiliate marketing is the network (in other words, the platform). Basically, it's the digital means of connecting you, your affiliate partner, and their potential customers. In the majority of cases, people use their own websites or blogs to become affiliates. If you don't have one yet, don't worry: you can set it up easily. So, let's take a look at the best web builders, each of which can help you start a successful journey in the world of affiliate marketing.
Top Website Builders for Affiliate Marketing
WordPress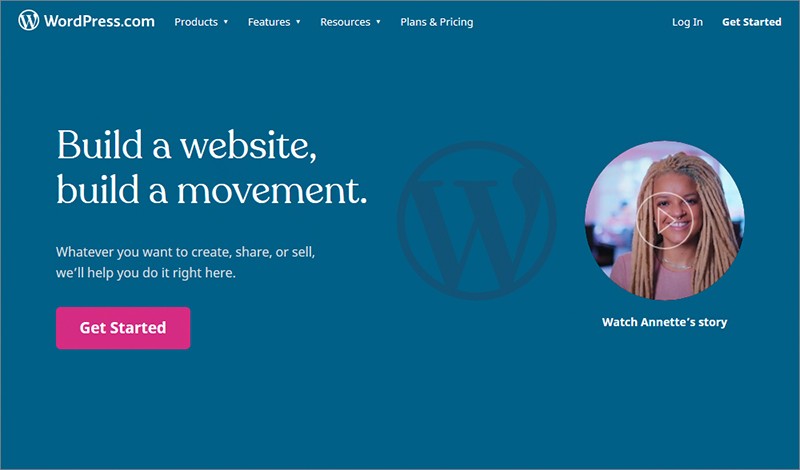 WordPress is one of the most popular website builders, and there are many reasons for that. This platform offers a simple user-friendly design, fast work flow, and a great deal of flexibility when it comes to customizing your website (even if you are using the free version). The templates are stylish, and most of them are suitable for affiliate marketing.
Additionally, WordPress works with a ton of plugins, which serve specifically for affiliate purposes. For instance, Affiliate WP comes with all the necessary marketing tools for a very reasonable price (the entry plan is $99 a year, which is a small investment for such a long period of time). There's also Affiliate Manager, which is completely free yet quite effective as well.  It isn't that feature-rich but includes all the vital tools. For instance, real-time reporting and stats, tracking, and even an unlimited number of affiliate partners you can have.
So, with WordPress, you can do both: easily build a great website and set up an affiliate marketing program without a hassle. Sounds like a pretty good deal, doesn't it?
Wix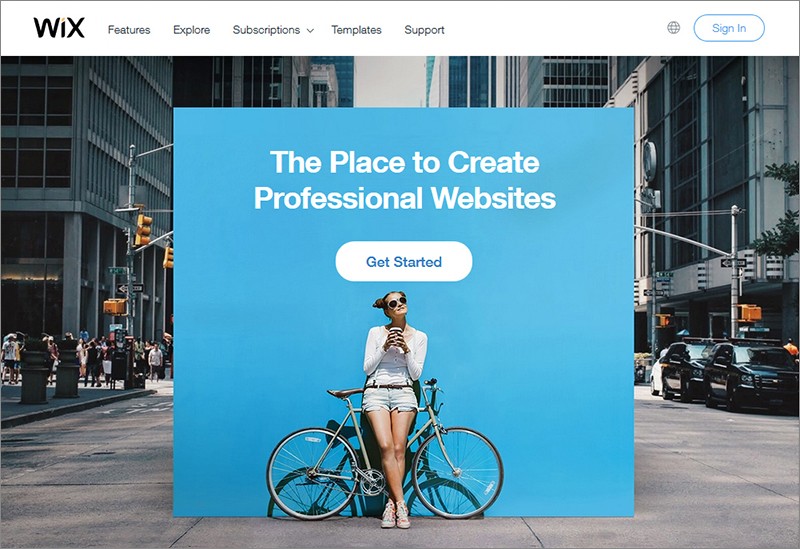 Wix is a drag-and-drop free website builder, which combines advanced tools and beautiful designs. Its templates are sleek and pretty, and there are styles suitable for almost any user. Plus, Wix offers a lot of creative freedom. It allows its users to adjust their web pages to every last detail. There are both free and paid plans, each of which has a specific set of features. Moreover, there are SEO tools and helpful marketing functions.However, keep in mind that your website will have a small Wix ad if you will be on a free plan.
When it comes to affiliate marketing, Wix has a lot to offer too. It allows users to track their traffic, check the payments, participate in multiple partnerships, and create marketing reports. It gets better: with Wix, you can create multilingual landing pages since this platform supports different languages. And if you want to add more functionality to your website, you can always integrate some helpful widgets, like social media pages or analytics tools.
Weebly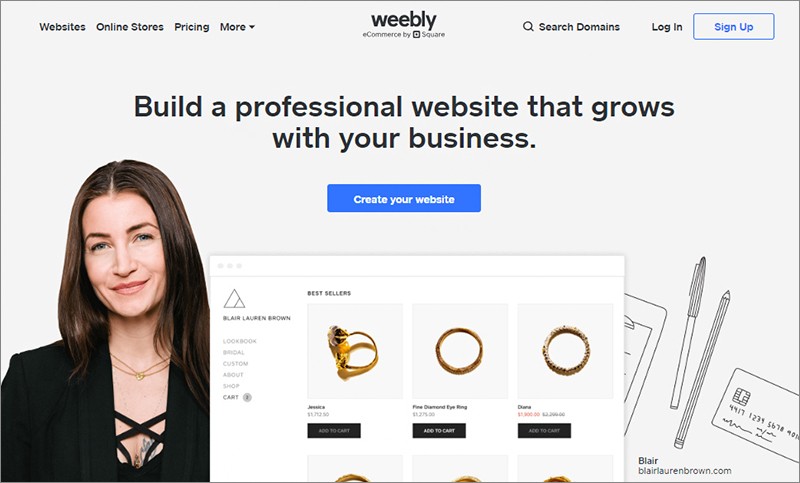 Weebly might not be as popular as the previous web builders, but it's definitely not worse than them. Weebly offers everything, really: great templates, simple operation, marketing tools, and even eCommerce features. There are various plans to choose from, including free and paid ones. This means you get the freedom to choose among different sets of features and see, which works the best for your specific website. And let me tell you this: Weebly is suitable for them all. You can use it to make an online store, a portfolio, a corporate page, the possibilities are endless.
Affiliate marketing is easy with Weebly too. This platform offers hassle-free setup and gives its users instant access to countless marketing tools, commission tracking, reporting, etc. Weebly works fast and smoothly, plus the support center is always in touch. Working with this web builder does not really require a learning curve, so you can start right away. Sounds great, doesn't it?