For your e-commerce to take off, it is important that you have strategic filing and positioning. You can explore all the potentials of your business by observing what the great e-commerce have done, which has paid off and replicated. So, T2M URL Shortener blog will leave some strategies for you to structure for your business model.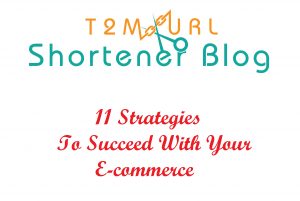 1. Target your customers
Many e-commerces work with more and more product diversity, and in these cases, segmentation becomes very necessary. Based on your client's cadastral profile, email marketing, promotions and offer what he is available to buy.
2. Define who your client is
It is very important to define who your customer is and who you are talking to. Thus, you will know exactly how to make your offer, what products to offer and to whom. As the internet is a niche business, knowing exactly who your customer is will help you a lot.
3. Understand what a client wants to read and set the guidelines
After defining the persona, another step that matters a lot is knowing how to structure what you are going to say to your client. It is essential that you understand at what stage of purchasing your customer have. So you'll know how you're going to talk to him. For example, if you need to arouse curiosity, influence the purchase, maintain the relationship, etc.
In this sense, it is also important to realize that the company always needs to produce a relationship with the client, so that it can awaken trust.
4. Content marketing is also for e-commerce
This strategy has already gained its place in the market because of the high potential of leveraging a business and relatively low investment. When you offer content of value and relevance to your customer, he tends to be more interested in your business and to respect you more and more.
5. Maintain constancy using an editorial calendar
In addition to knowing the customer and maintaining a relationship with him, it is very important that you be consistent while doing this.
But how?
A calendar of content, publications and e-mails will generate consistency and, consequently, user interest. This makes him the habit of going back to a e-commerce because the persona knows that there is always something new that interests him. This increases credibility.
6. Increase the average ticket
Another very effective strategy of e-commerces is to raise the options for the user to buy more. This means that the consumer tends to spend more since he finds more things that interest him.
In technical terms, this is called increasing the average ticket.
7. Be assertive to retain your customers
In addition to getting the customer to buy more, it is essential that he not be the customer of a single purchase and re-buy more often.
For this, offer discount coupons, loyalty programs, among other advantages and benefits.
These strategies also help increase customer satisfaction as they feel more valued with the value added to their purchase.
8. Categorize your products
This strategy consists of grouping different products, but with the same common utility, that can attract the public.
In addition, it is still possible to divide products by price range and other filters.
9. Simulate the experience in your virtual store as it is in a physical store
It's important that you look at your e-commerce like a physical store. Keeping track of your sales, metrics, and optimizing results continually should be your focus. Also, try to qualify your site to ensure its results.
10. Monitor your website traffic
And speaking of metrics, T2M blog could not stop talking about traffic monitoring. It is very important to have this monitoring daily or weekly.
A recommended practice to monitor your site traffic is to use an  SEO tool to help organize the work. This helps improve your strategies to attract more visitors, such as improvements in SEO and creation of referrals for the web.
11. Have a competitive price
With the ease of searching on the internet, it is not to be suspected that what drives the consumer to choose a product in one or another store is the price. Most customer search on the search engines for the price he wants.
Knowing this, it is essential to monitor the market and work at a competitive price. We must be dynamic and develop a strategic action in this respect.
You need to do a study and consider whether it is worth reducing the profit margin and gaining in volume. And try to use LSI keywords with the price range in your content.