Plagiarism is nothing new in the online world. Currently, more than 30% of the websites on the internet suffer from plagiarized content.
This percentage is far beyond expectations as multiple platforms cover the same niche or topics. Quick and easy access to information has pushed content creators toward copying content from top-ranking sources and web pages.
But duplicating content from a ranked website would only benefit you for a short while until the search engine crawlers find and penalize it from featuring in SERPs. Thus, plagiarized content would ruin all your on-page and off-page SEO efforts.
In this article, we will define how plagiarized content affects your SEO and why you should avoid it. We will also suggest valuable tools to help you detect and avoid plagiarism before publishing web content.
What is Plagiarism?
Before we learn about the consequences of plagiarism, let's take a look at the definition and forms of plagiarism. The standard definition of plagiarism seems intentional: copying and pasting content from one webpage to yours.
But plagiarism can also be unintentional as the writer may lack the research or paraphrasing skills to elaborate on searched information in their own words. Lack of these skills is the most common reason for plagiarism, and most of the time, bloggers or writers are unaware of it.
In this case, researching and implementing the information becomes duplication when you're just reading and writing the information instead of retaining the original meaning.
Every search has its way of dealing with duplicated content. As for Google, you may get a warning for publishing plagiarism content along with temporary penalization. But if the same act is performed repeatedly, it can permanently ban the website from showing up in the SERPs.
How Plagiarized Content Affects Your SEO
Plagiarism is overlooked by content writers when they are reading and implementing the information in their own words. Such activity is recognized by plagiarism checkers as unintentional plagiarism and usually, writers are unaware of it. Ultimately, the ranking of a website is affected by duplicated content in the following ways.
●      Bad Domain and Page Authority
Domain and page authority holds the credibility of a website. If your web pages feature copied content, you may face trouble maintaining your reputation, which will ultimately affect your impression on the audience.
Duplicated content will reduce the customer's trust in your source and ruin your reputation as an author. Plagiarized websites affect the domain and page authority of a website.
●      Low Search Engine Rankings
Google has a very strict policy against duplicated content due to copyright concerns. You cannot feature someone else's research work or content without giving credit to its owner. Search engines like Google consider plagiarism-free content as a ranking factor.
If Google crawlers find plagiarism in your content, the chances are that your website may get penalized for publishing such content online. Such restrictions can ruin all your SEO efforts like back linking, internal linking, and off-page SEO efforts.
●      High Bounce Rate
The audience visits a website and expects to learn valuable information from the source. Especially if your blog is about content marketing, the audience will focus on how your products and services will help to resolve their issues.
Publishing duplicated content will not make your website unique because the audience will be looking for insightful information that seems different from others.
So, if the audience finds the same information on your source as they have already read elsewhere, they may not stick around on your webpage for a long time.
Such activity will increase the bounce rate, indicating that people are not interested in reading your content. Ultimately, the bounce rate of your webpage will increase, which will decrease your Google rankings as there are fewer interactions and clicks on a webpage.
●       No Organic Traffic
Plagiarized content is not acceptable by a search engine. Thus, it lowers the rankings of websites with repeated content instead of featuring in the top results of SERPs.
Due to lower ranking, you may not be able to achieve the desired number of clicks and impressions on your website. Therefore, you won't be able to draw organic traffic to your website.
Featuring duplicated content may rank your website for a short while. But it will only last until Google crawlers detect plagiarism from your webpage content.
Suggested Tools to Avoid Plagiarism
Avoiding plagiarism and its consequences is healthy for your website's search engine optimization, which can be performed with the help of automated tools, as mentioned below.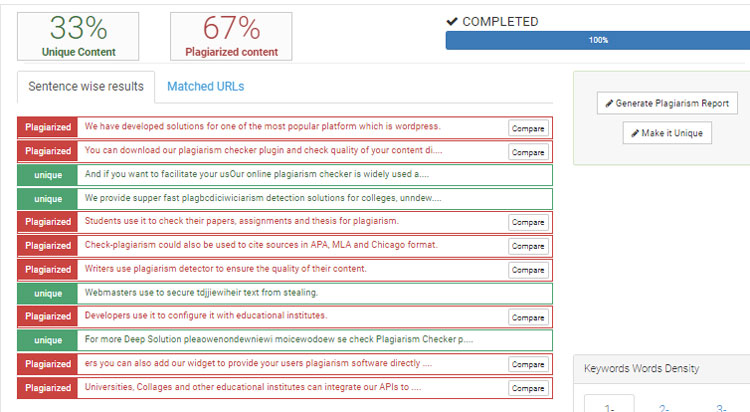 Search engines impose penalization on your content if it happens to be duplicated. The best way is to evaluate the quality of your content with a plagiarism checker. Check-Plagiarism.com is an excellent tool to use for this purpose.
This tool can check your content before publishing it online to avoid search engine penalties.
Writers who fall under the allegation of unintentional or self-plagiarism can use this tool to learn about their written content's uniqueness and plagiarism ratio. Moreover, it generates a detailed report about your content, including links to the resources which have similarities with your content.

Paraphrasing is the best remedy to deal with plagiarized content. But if you don't know how to paraphrase appropriately, you may commit plagiarism by copying and writing content in your own words.
However, with the help of an online paraphraser, you can precisely rephrase plagiarized content to make it unique and readable for your online audience.
A paraphraser follows the concept of paraphrasing by changing certain words with their relevant synonyms. The idea is to make the content unique without changing its apparent meaning or idea of the context.
Conclusion
Plagiarism is a form of property theft and is not acceptable by the audience or search engines. There is a permissible limit under which plagiarism is bearable, which stays between 10-15 % of the entire content. But anything beyond this percentage will be dealt with according to plagiarism's extent.
In this guide on how plagiarized content affects your SEO, we provided some information points on why you should avoid plagiarism in your content.
We also suggested some useful tools that can help you to deal with plagiarism, even if you're a beginner writer. We hope this article was insightful to guide you with the consequences of plagiarism.