In Digital Marketing, even small details are important to attract the attention of the consumer. An example of this is the shortening of links, to take advantage of the space and provide a more comfortable and aesthetic experience to your audience. Therefore, you should know that the Google service called URL Shortener, will continue to support users from March 2019. However, do not worry, here we tell you how to migrate to another of the best digital space.

Come to T2M today
Surely you have already heard about this platform T2mio.com to cut links, which has been used by thousands of brands for several years now. Now that Google URL Shortener will go out of circulation, it's time to migrate to this medium, which offers you more benefits than you know. First, remember what is the basic and useful information that shows you when you use it:
-A number of times that a user has clicked on your link: in this way, you can measure the performance of a particular campaign, through Twitter, Facebook, Pinterest or any other digital media.
– One Click Share option to Social Media:
You can share your shorted link with just one click from T2M Dashboard.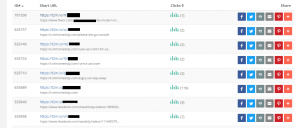 However, this medium gives you other interesting options like almost everything from a Basic plan.
Extra options T2M giving you
One custom domain
Custom HTTP redirect status code
Edit/delete links at anytime
Branded & Vanity URLs
Target URLs edit friendly
Bulk URL creation (CSV Import)
Excel/CSV exports by date range
Password protected URLs
404 custom redirect
Get the Branded Short Domain
This is where we enter professional areas, suitable for your marketing campaigns. The Branded Short Domain, or BSD, is the personalized link on this platform that includes your official domain. For example, instead of t2m.io/example, your link will be yourdomain.com/example.
To obtain it, you must follow these steps:
-You must have previously acquired your domain, through a hosting provider, such as GoDaddy or Namecheap.
– Also, T2M URL Shortener will configure your DNS, to indicate that now your domain will redirect to the t2m platform.
Impact of cut-out and personalized links in your Marketing plan
This links showed below or links like this will not only be easier to share with your audience. Also, some social or other platform does not allow more than 250+- characters. So what will you do then? Write for your users or share your valuable link?

So t2m also has great advantages for your strategy, such as the ones listed below:
A better web positioning: the fact that your links include keywords, it is important for search engines to recognize and index your content, thus complementing the objectives of your SEO plan.
Strengthen your presence among your followers: in the same way, your audience will recognize your brand and content more easily. For example, personalized links are an excellent strategy for a startup, as they will allow their name to become popular more quickly.
Increase your CTR: according to the information provided on your official site, for brands that decide to adopt a BSD, your percentage of clicks can be substantially increased.
As we can see, customizing your individual links can boost your Digital Marketing strategy more than you imagine. Therefore, use this service from now on and take advantage of the advantages that your analytics and performance control system offers you.