Pinterest is a social network with which you can pin the best images and videos on the web. If you do not know what a pin is and you want to get started in your world, or you are a more advanced user and want to check Pinterest statistics, this article will help you get the most out of it.
No doubt, Pinterest is very useful for any online business, like for T-shirts or clothing stores, or pet stores etc. It can be said that Pinterest is women's world because 70% of Pinterest users are women. So what are you thinking? Don't you have an account? Let me tell you how to open an account.
How To Create A Pinterest Account?
To begin, enter Pinterest and create your account. For this, you can choose between using your Facebook account or your e-mail.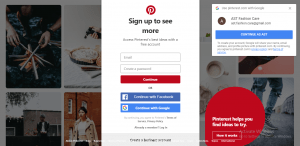 Choose the one you prefer and follow the registration instructions to continue. If you enter your email, you will have to confirm it by clicking on the link that will be sent to you.
If you prefer, you can use Pinterest on your mobile with the Android or iOS application.
Edit Your Pinterest Profile
One of the main things you ought to do when entering Pinterest for the first time is to edit your profile.
To do this, click on (…) from the top right side and you will open a drop-down menu of choices. Select "Edit Settings."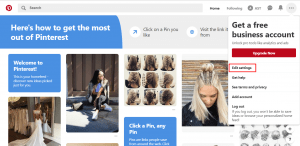 A new window will open in which you can indicate your name and surname, change your avatar or profile picture and choose your username.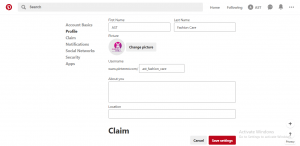 Your username will be used to have a personalized URL, so you can enter your profile with that unique address, which is easier to remember. You can also write a short description or biography, your location, and website. To the right of the same will appear if it is verified or not, the aspect of which we will speak next. You can connect social networks to Pinterest, including Facebook, Instagram, Twitter etc.
Find friends on Pinterest
When you have completed your profile, you can search for friends/followers on Pinterest, it is as simple as clicking on "Following" and follow all those you want to have on the social network.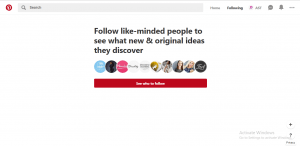 I recommend you to follow your niche based people. Like if you have a business of T-shirt and you have a Pinterest account to market your T-shirts than you should follow the people who have interest in buying T-shirts online. The question is where will you find them.
How To Get Niche Based Followers?
To connect people with whom you can market your products, you have to spy other same business's followers or fans. To do this, you have to search your niche on Pinterest.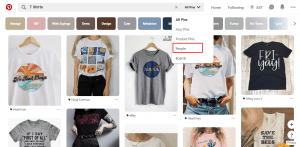 Like if you search "T-shirts" than you will see like above. And you have to select people from the drop-down menu. Then you will find many stores, T-Shirts, or some people etc. What you have to do is, go to their profile and follow their followers. In return, you will get follow too if your account is attractive and active. At the same time, you might get some sell to.
Search Content To Pin
You will get beautiful and attractive things to pin in your Pinterest homepage according to your interest. But if you want to see something different then your interests are, you have to use the search bar.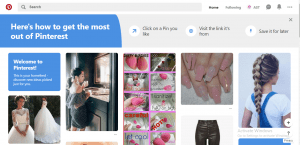 And when you wish to save a photograph, you have to click save on the photo and you will be asked to choose a board to save the pin. Pinterest is the best social bookmarking site in this way. You can view your social bookmarks when you need them, just clicking once from your beautiful and organized Pinterest profile. You can save other's pin as well as your pins from your computer.
Start Pinning
You have to click save on the photograph you want to pin. Pinterest will suggest you a board from your board list to pin the photograph. If they do not find a nearby board to pin your desired photograph, then you will be asked to select one. In that case, you have to select one and click Save to pin your photograph.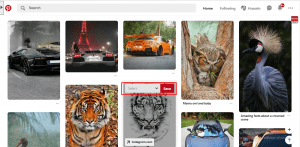 Upload A Pin From Your Computer
First, you have to go to your Pinterest profile and then click on Pins. You will see "create a pin" option. Click on that and upload a pin from your computer following further instructions.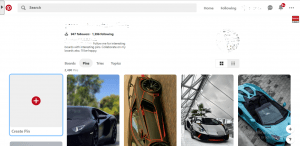 Create A Board Or A Secret Board On Pinterest
In the same way, you have to go to your profile and click on boards and then "create a board" and follow the instructions. Here if you want to create a secret board, don't forget to mark for a secret board.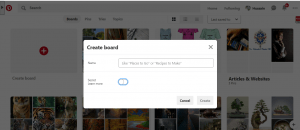 Create A Group Board
You can create a group board on Pinterest. It's just like as facebook groups. We add users of Facebook to our facebook group and they contribute to our group. The Pinterest group board is same as like that. You can create a group board, add members and they will contribute. For this, you have to edit your board.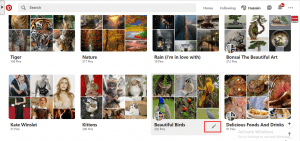 First, you have to find out the people you want to add in your board and copy their username from the URL bar. Like if I want to add someone named Dump Trump to my board, I have to go to the profile of Dump Trump and copy username like shown below.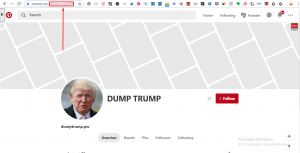 Then you have to go to your desired board's settings and paste the username in Collaborators box. You will see the user. Click and invite him/her to join you. That's it.

Check Your Notifications
As in all social networks, you can receive notifications about your activity on Pinterest. You can access them in the upper right, next to your name, the icon will turn red with the number of notifications you have at that time. You will receive notifications about new friends who join the social network, new followers, if someone has added your pin or if you have "liked" it.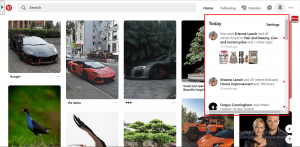 You can likewise pick which email notices you need to get. To do this, go to Pinterest settings and select "Notifications by email." And then go to "Notification." Turn On or Off as you need. And then click "Save Settings."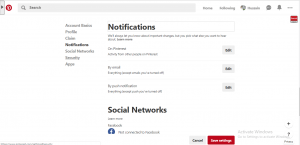 Organize Your Boards
The most Pinterest user does not know that they can organize their Pinterest boards. So now I am going to tell you how to organize Pinterest boards. Just you have to click the left button of your mouse on your desired board you want to move. Then move your mouse there where you want to place the board. That's it.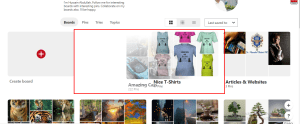 Remember the more active you are, the more you will get benefit from Pinterest. If you forget Pinterest, the users/followers will also forget you. So keep pinning and grow your brand awareness.
If you have any further question, let me know in the comment section. I will reply you as soon as possible. And don't forget to use URL shortener T2Mio.com while shortening your product URL and adding it to your pin on Pinterest.