If you want to build and develop an audience around your brand on the Internet, the best way is to contact influencers. And no matter what niche you operate in, there will necessarily be influencers you can connect to if you find them. The best approach is to use a tool specifically designed for influencer research. Such tools can help you find, analyze, and easily contact the most relevant and authoritative influencers in your niche. To get you started, we T2M URL Shortener giving you 10 of the best influencers search tools for everyone, from bloggers to small and big companies.
Buzzsumo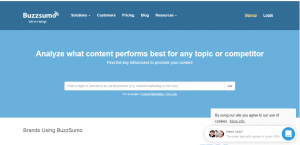 Buzzsumo is a tool that can help you find influencers in different ways. First, it can help you find the most popular content for specific topics. You can also use it to find the top performing posts in your content niche (so you can connect with the person behind each popular post). Secondly, BuzzSumo also includes an excellent influencers search tool on Twitter. You can search Twitter bios and shared content for relevant influencers. You can also filter according to whether the influencer is a:
blogger
influencer
Society
Journalist
"Regular" person
There are also other filters for activity, certified account, rental and more. BuzzSumo offers limited free searches. For unlimited searches, as well as more professional features, plans start at $ 99 a month.
Supported platforms: Blogs, Twitter. 
BuzzStream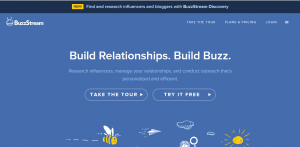 BuzzStream is a tool that helps you to "Build Relationships, Build Buzz. If you're interested in influencer marketing, this tool will help you reach your goals. So, how does BuzzStream really help you build those relationships and get that buzz? It starts with influencer research. First, BuzzStream offers an extension on your browser. For example, if you come across a popular blog in your niche, BuzzStream allows you to add this blog to your list and see a lot of information about the person behind the blog. Beyond that, BuzzStream also allows you to use keywords to find influencers related to your niche. It's more than just a list – BuzzStream gives you a complete picture of this person's websites and social media presence. Then you can easily add these influencers to sorted and filterable prospect lists. Once you have your prospect lists, BuzzStream makes it easy to send personalized emails and automated follow-ups. BuzzStream is designed to help you manage all of your influence marketing efforts – from research to monitoring your relationships and analyzing your performance. Despite a large number of features, BuzzStream remains accessible to bloggers and entrepreneurs. The BuzzStream Starter Plan starts at only $ 24 per month for up to 2 users. Although it does not have all the features, this should be enough for bloggers. And as prices go up, you get features that also make BuzzStream an ideal solution for large businesses. You can also take advantage of a 14-day free trial to see if BuzzStream is right for you.
Supported platforms: Blogs and social networks in some cases 
AeroLeads


Influencer marketing can boost your sales as well as a brand image like never before! It will help you build an audience that will keenly look after your products and follow on social media. These influencers can be either Youtubers or Instagram influencers or any famous personality/public figure. The best way to contact them is by using online tools like AeroLeads. No need to visit every profile and struggle for getting their contact details. Using AeroLeads, you can extract the email address, phone number, etc just with one click. You can make an email list of such influencers and segregate them on their niche. For eg, making a separate list of food bloggers, YouTubers, travel bloggers, etc. Just one tool and all influencers' details in your hands.
Supported Platforms: LinkedIn, Twitter, Instagram
NinjaOutreach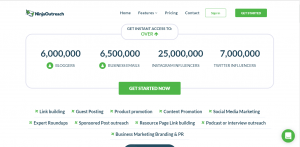 Like BuzzStream, NinjaOutreach is another cloud-based influencer search tool. You will see that you will see a lot of similarities between the two. NinjaOutreach allows you to search prospects in its database of more than 25 million websites. To refine things, you can add tags to refine the filtering:
bloggers
influencers
companies
Individual articles
Beyond websites, NinjaOutreach also allows you to search on Twitter and Instagram. And like BuzzStream, NinjaOutreach also offers an extension on your browser that allows you to see information on a website while you are browsing. Once you've found leads, you can add them to a sortable, filterable list. You can also add tags to better organize things. Once you have your prospect lists, NinjaOutreach helps you send automated and personalized emails. NinjaOutreach will track details on openings, clicks, and responses to emails so you can see how effective your efforts are. So far, it looks a lot like BuzzStream, isn't it? Here are some notable differences you will see (but not a complete list):
NinjaOutreach allows you to automate your entire email sequence, while BuzzStream only allows you to automate your follow-ups.
NinjaOutreach allows you to search influencers directly on Twitter and Instagram while BuzzStream is primarily focused on websites.
BuzzStream includes more team-oriented features than NinjaOutreach.
In addition, since the cheapest package of NinjaOutreach starts at $ 69 a month, BuzzStream is a little more accessible for smaller bloggers. Like BuzzStream, NinjaOutreach offers a 14-day free trial.
Supported Platforms: Blogs, Twitter, Instagram 
Pitchbox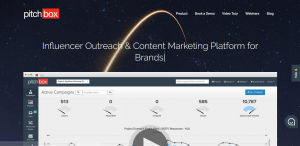 Pitchbox is an influencer search tool marketed to SEO teams. Although anyone can use it, this tool is mostly for blogs rather than anything related to social media. Pitchbox allows you to find potential influencers via a simple keyword search. Integrations with SEO services like Moz, Majestic, and SEMRush help you filter out these influencers to find only those with the most authority. Once you've found influencers you'd like to connect to, Pitchbox helps you send personalized emails, as well as automated follow-ups that they believe can increase response rates by an average of 62 percent.
The only drawback? The price of Pitchbox ($ 195 / month) makes it out of reach for many solo bloggers.
Supported platforms: Blogs
Klear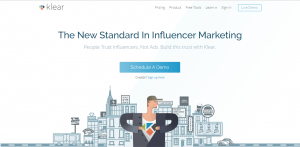 While Klear allows you to search for influential bloggers, it is much more social-focused than the previous influencer search tools. In total, Klear has a database of over 500 million profiles across four networks:
Twitter
Instagram
Youtube
blogs
For each network, you can search by skill, location, and influence level. For example, you can use Klear to quickly find the most influential Instagram users who focus on yoga. Once you have found leads, you can explore individual influencers to analyze:
What is their influence?
What other brands did they mention?
How are their followers engaged?
General demographic data for their subscribers
If all goes well with your further analysis, Klear will provide you with contact information and other ways to manage your relationships. Klear can also help you see how effective your outreach efforts are in terms of how many mentions you get and the commitment these mentions generate. If you're focusing primarily on blog posting, you probably want to keep one of the two previous tools. But if social media is your playground, Klear is a great option. Klear has a limited free plan. For full features, you need to schedule a demo to get price information.
Supported platforms: Twitter, Instagram, YouTube, Blogs
Awario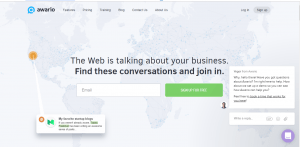 Awario is defined as a "monitoring tool for social media and the web". But some of this "monitoring" actually includes features that you can apply directly to influencer research. For example, when you search for people who have mentioned your brand or related topics, you can quickly see them and sort by "scope". This allows you to find the most influential people who publish on you and your niche. Then you can reach these influencers or monitor them to build a relationship over time. Beyond that, you can also set up continuous monitoring for specific keywords and view a report to see the most influential accounts for a particular topic. Awario starts at $ 29 a month.
Supported platforms: Blogs, Facebook, Twitter, Instagram, YouTube, Google+ and Forums. 
Followerwonk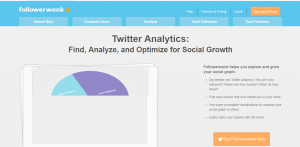 Let's make things a bit more affordable with these next two tools. Both offer free packages. And although they are not as comprehensive as the paid tools above, they are a good option for bloggers. First of all, there is Followerwonk. In simple terms, Followerwonk helps you find Twitter influencers in your niche. It does not take into account other networks but, if you need influencers on Twitter, Followerwonk can help you find them for free. The tool allows you to search Twitter bios by keyword, then compare them to other users and/or download reports. For more control, you can filter according to criteria:
Location
Minimum / maximum number of subscribers
Minimum / maximum number of tweets
Followerwonk's analytics tool can also help you create different Twitter user segments. It also includes other features for Twitter analytics that can help you monitor your own account. Although not part of influencer research, you may still find these features useful. Followerwonk is a good tool that will not cost you a cent for the basic research of influencers.
Supported platforms: Twitter 
Hunter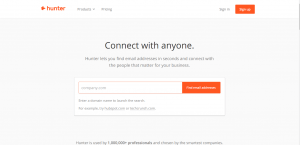 Read the following to know if Hunter is a tool that may be right for you. Hunter does not necessarily help you find an influencer. But, once you have an influencer in mind, Hunter can help you get in touch with that person directly through his real email address (rather than an anonymous contact form). While influencer search tools (BuzzStream, NinjaOutreach) all offer something similar, Hunter focuses solely on finding email addresses. Better yet, Hunter is free for 100 email searches per month. Hunter also allows you to save email addresses as prospects and track emails you send via Gmail. Hunter has a chrome extension too.
Supported platforms: search email addresses
GroupHigh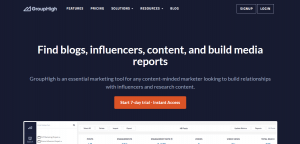 GroupHigh is another premium service to help you find influencers. Although the focus is on blog influencers, GroupHigh can also help you find influencers on Twitter, Instagram, and YouTube. Its database contains more than 15 million blogs, while its social media databases are a little smaller. To find influencers, you can search for entire blogs or specific content items. And you can also filter by:
Network
Location
Advertising networks used
And many other options …
Then you can add these influencers to a list. Although GroupHigh does not offer automated streaming services like NinjaOutreach, it includes a CRM to help you manage the people you are connected to. It also includes content tracking and engagement to see if your mentions are effective. While the main service is premium (you need to schedule a demo to get pricing), they have posted lists of free influencers so you can see the type of results that GroupHigh is able to generate.
Supported platforms: Blogs (mainly), Twitter, Instagram, YouTube 
Dovetale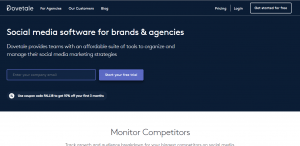 Dovetale is a "real-time analysis to develop your brand". And while not all of this analytics focus on influencer research, Dovetale offers two interesting ways to find influencers related to your brand. First, it has a standard module to discover where you can search for influencers using keywords, and then filter them with i.e. total reach and location.
Most other tools can already do it for you. But the real added value at Dovetale is its Monitor function. This feature lets you track your competitors and see which influencers interact with them. From there, you can quickly add one of these influencers to your own list or post more information about them to see if they could be "better suited" to your brand. Once you have leads, Dovetale helps you manage them with lists. Another nice feature you will not get with many other tools is "Payments". If you're doing paid influence marketing, you can manage payments and collect banking information directly from the Dovetale interface. Dovetale starts at $ 199 a month, which can be a bit high for solo bloggers.
Supported platforms: Instagram, YouTube, Facebook, Twitter 
ContactOut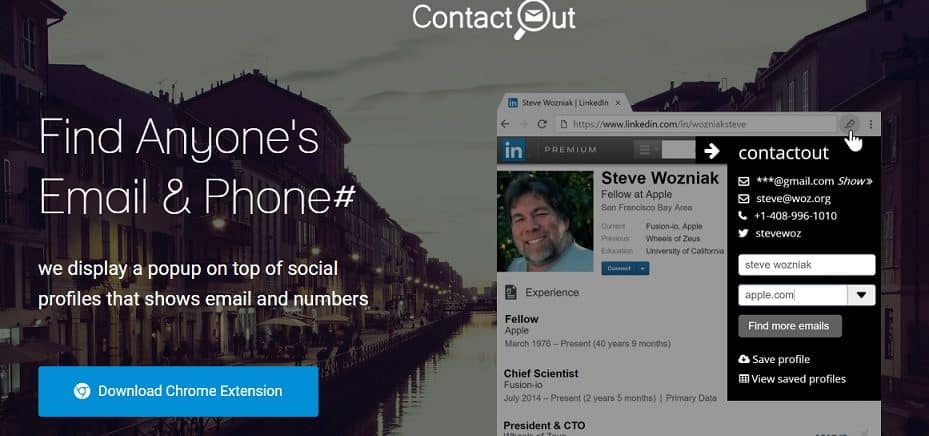 ContactOut is a simple browser extension that helps you find email addresses and phone numbers of anyone on LinkedIn at a 97% accuracy rate.
It works above LinkedIn and It provides contact information of a linkedIn user in a matter of seconds such as Email addresses (both personal and working email) phone numbers and social media account (Twitter, Instagram and etc)
Contactout offers 50 free credits per month by default, pricing is set on bulk the higher the credits to purchase the lower the price to be paid, plans start from $19