Is free URL shortener site bit.ly banned in Bangladesh?
Bitly the popular free URL shortener came on top after google URL shortener shut down. However, it's users in Bangladesh have noticed that none of the bit.ly short URLs open from their phone or pc. People thought it's an ISP issue or firewall configuration problem.
Growthworx team investigates this and finds bit.ly actually banned its bit.ly domain and visitor who tries to visit a short bit.ly link, they see it keeps loading. Even I can't even access the homepage of the URL shortener bit.ly by hitting bit.ly. What is the alternative to bitly?
So now people in Bangladesh are searching for the best bitly URL shortener alternative. It is heard that people in Bangladesh were using bit.ly too much. But none of them purchase subscriptions and so bit.ly has no good business deal with this country. "It is unprofessional. The free subscription of 10,000 bit.ly links was enough for some businesses. They gave this opportunity and now they suddenly stopped it. If they wanted to do business with small businesses they could release other packages too. Or they could reduce the amount of the free link. But they didn't do that and stopped it without any notice. All of our important business links and links sent through SMS are not working anymore. And thus people facing problems with their irresponsible activities." said a marketing officer of a renowned bank of Bangladesh.
T2m URL shortener also thinks it is very frustrating. Bit.ly should not have done this. So T2m offers link shortener users of Bangladesh to join with T2m link shortener. T2m shortener is worldwide and promises they will never stop someone like bit.ly does.
Growthworx SEO confined that bit.ly banned Bangladesh from accessing bit.ly domain. But still, users can log in to their dashboard of Bitly URL Shortener from bitly.com. They can see their redirected URLs and it's data.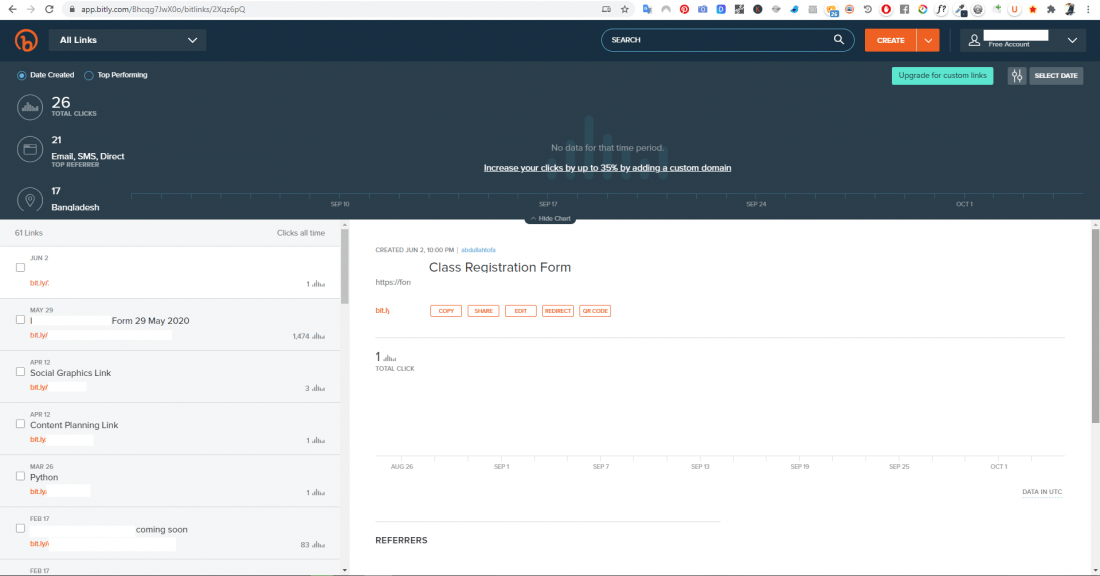 Since Bitly shortener blocked Bangladesh, Growthworx recommends the T2m URL shortener as an alternative to bitly. We Growthworx team use T2m shortener and very happy with it and so we have requested T2m to publish our thought on their website. Thanks to T2m. Let us know your thoughts in the comment section below.
What should I do if I need to view something on bit.ly from Bangladesh?
Growthworx team finds that Bit.ly domain links are accessible with the VPN from Bangladesh. So if you need to visit a link of bit.ly domain from Bangladesh or any other blocked country, you can use a VPN and view it.
Who are Growthworx?
Growthworx is a business service providing solutions. It provides assistance and guidance for a wide range of needs including Business & Admin assistance, Content, Writing & Translation, Digital Marketing, Email marketing, Graphics, Design & Branding, Marketing, Advertising & Sales, Media & PR, Photos, Videos & Animation, Research, Analysis & Reporting, SEO & SEM, Social Media, Strategy, Technology & Programming, Tutorials and courses, Websites & E-commerce, Audio, Admin, Advertising & Sales, Mobile services, Email Template Development, Architecture & Building Design, Advertising, Logo & Brand guides, Animation, Analysis & Reporting, Social Media Channel creation & assistance, Business Strategy & Plans, Games & Apps, Accounting & Finance assistance, Databases management and creation, Advertising & Sales, Beauty advice & lessons, Branding Services, Bookkeeping and accounting, Diet and meal plans, Book appointments for you, and assist with Accounting & Finance. It has been top in SEO for the last 5 years.