Your work isn't finished when you hit "publish" on your latest blog post. Promoting your work is just as important as writing and publishing. Effective blog promotion drives web traffic, attracts backlinks to your site, triggers social shares, and generates opt-ins. In other words, publicity is part and parcel of the blogging process.
What are the best ways to promote your next blog post after publication? Let's look at some of the methods you might want to use.
1. Use Email Marketing
There are 4.037 billion email users worldwide, according to Statista. Email is the most effective of all digital marketing channels, based on feedback from marketing professionals: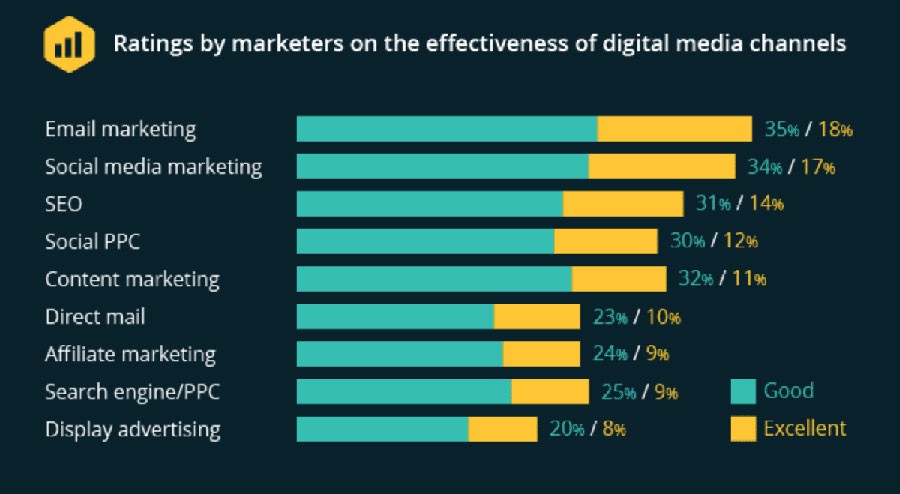 Source: Smart Insights
Fortunately, it's relatively easy to learn the basics of email marketing. Just follow these steps:
First, create a profile of your ideal customer. Who is most interested in what you have to offer? What problems does that person have, and how can your solution help them solve those problems?
Once you know the kind of people you'd like to target, use LinkedIn to find them and an email verification tool to check their email addresses.
Finally, create your email. Remember to personalize – people don't like reading generic emails. If you make the recipient feel that you're writing specifically to them, they're more likely to open and read your email. Here's how Zest does it:
Notice how Yam writes as if he were writing to a friend. The email is not about Zest, but about the value Zest can offer to the email recipient. There is also a clear call-to-action.
Use the recipient's name, use an informal, friendly tone, and don't forget to ask them to comment, like, and share your blog post.
2. Take Advantage of Social Media Marketing
Social media is an excellent platform for promoting content. According to the Digital 2020 Global Digital Overview, active social media users have reached 3.8 billion. That's almost half of the total global population!
Social media marketing is not just a matter of posting and waiting for people to visit your blog. It's essential to have a cohesive social media strategy in place. Consider the following:
Why do you want to be on social media? In other words, what is your goal? Do you want to generate new leads, increase web traffic, boost revenue, or improve brand engagement? You don't need to focus on all of these goals at once. Choose one or two that are most important.
Who is your target audience? It's time to revisit your customer persona. Your target audience will help determine what you post, when you post, and which social media platform(s) you use.
What will you share? What is the theme of your content? Just sharing links to blog posts won't cut it. Include images, video, and audio content for maximum engagement.
When will you post? Focus on the general behavioral patterns of your target audience. If you're targeting basketball fans, it's best to post before, during, and after a big basketball game. If your target audience is primarily people working 9-5 jobs, focus on posting during commuting hours and at lunchtime.
What platform are you going to use? You don't need to be on every social media platform you can think of. Again, focus on your target audience and go where they are most likely to be.
When you hear "social media," you probably think of the big three – Facebook, Twitter, Instagram – and perhaps LinkedIn. But don't discount other platforms.
Social bookmarking sites such as Digg and Reddit allow you to use tags to organize your posts. They also have an "upvoting" system, giving more exposure to popular posts. There are also niche social bookmarking sites such as Zest, which carries marketing content, and DesignFloat, which is for the design industry.
On reciprocal sharing sites, you can earn credits for sharing other people's posts, and then spend your credits to promote your work. Viral Content Bee is one such platform.
Wherever you're posting your content, you'll have much more success if you respond to comments, say thank you for shares, and engage in discussion with your readers.
3. Build Relationships
No man is an island, and that's particularly true in the blogosphere. You need to build relationships to get your work the exposure it deserves.
Here are some ways you can create and nurture those relationships:
Employ Influencer Marketing
Savvy marketers understand the power of influencers. According to BigCommerce, 65% of influencer marketing budgets are set to increase this year, compared to a 39% increase in 2018.
Influencer marketing represents big money. According to Mediakix, 19% of marketers budgeted between $1000 and $10,000 for influencer marketing annually, while 18% budgeted $100,000 – $500,000.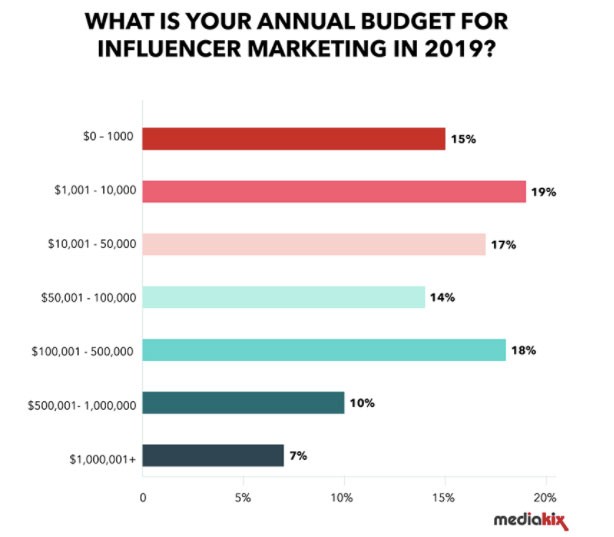 Source: Media Fix
Even if your budget is much smaller, you can still make the most of influencer marketing. Here are some ideas for you to consider:
Interview an influential blogger: Make the person the subject of a blog post. But make sure you choose a relevant figure, not just the first random Instagram star who will speak to you. The influencer will share the interview on their channels when you have published it.
Ask influential bloggers to write for your blog: You could ask them for a whole post, but if they don't know you (or you can't shell out a lot of money), this can be a big ask. Another option is to ask several influencers for one paragraph about a specific subject, and then create an expert roundup. This strategy can result in multiple influential bloggers sharing your post.
The key to successful influencer marketing is to offer value in return. You're not asking the influencer for a favor with no benefit to them. Your proposal should represent mutual give-and-take.
Conduct Blogger Outreach
The blogosphere is a supportive community. Don't be afraid to reach out to other bloggers for content partnerships, backlink acquisition, and guest posting opportunities. Guest posting – providing content for another site or blog – is particularly effective because it builds your backlink profile while introducing your work to a new set of readers.
Approach your blogger outreach strategically. Focus on bloggers within your niche, and familiarize yourself with their content by reading a few posts before you reach out. Send a friendly, personalized email, outlining what you're asking for and what you can offer them in return.
Comment in Other Blogs
Making frequent, thoughtful comments on other blogs in your niche is an excellent way to get the attention of the blog owner and other regular commentators. Contribute positively to the discussion, be respectful even when you disagree with something somebody has said, and avoid aggressive self-promotion.
If they like what you have to say, your fellow commentators and the blog owner will check out your blog. If your content impresses them, they'll share them with other people.
4. Try Paid Marketing
If you have a marketing budget, spending some of it to promote your blog can be a wise investment.
The majority of digital advertising money still goes to Google and Facebook, as this graph shows (Facebook also includes Instagram, which the former acquired in 2012).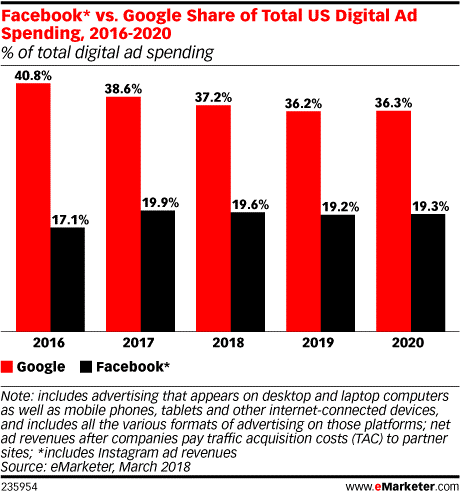 Source: Wordstream
However, these two platforms are not your only options. Again, you should use whichever channels your target audience primarily uses. Pinterest offers promoted pins, Twitter has promoted Tweets, and LinkedIn allows sponsored content. You may also want to consider content discovery platforms such as Outbrain.
Tailor your ad to your ideal customer, set your budget, and don't be afraid to experiment. You might not get it entirely right the first time.
5. Leverage Content
Take advantage of platforms that allow you to curate content, such as Flipboard and List.ly. You can also promote your blog post to a broader audience with content aggregators such as Blog Engage. These sites collect content from other websites and gather it in one place.
And then there's content syndication, where you can promote your content to third parties, who will then publish it on their websites. Medium is perhaps the best-known content syndication platform.
Finally, don't forget that you can re-purpose your content. A blog post can be turned into an info-graphic, a slide presentation, a podcast, or a video. People prefer to consume their content in different ways, and presenting it in multiple formats increases your potential reach.
Reaching a Wider Audience
Technology offers a multitude of ways to reach and connect with an audience. This article has covered just a few of the most effective methods you can use to promote your blog.
But if doing all of this feels overwhelming, don't worry! You don't have to do everything all at once. Start with just one or two strategies and then assess whether they are working for you. Don't be afraid to tweak your strategy and try different ideas. Start small – you can always add more promotional activities later.
Regardless of the platforms or methods you're using, remember the golden rule: all decisions must be made with your target audience in mind. Take the time to understand who they are, which platforms they spend time on, and what problems they are trying to solve. If you know your audience and present your content appropriately, you're already halfway to increasing your reach and getting your blog read by the right people.
---
About the Author:
Owen Baker is a content marketer for Voila Norbert, an online tool for email verification. He has spent most of the last decade working online for a range of marketing companies. When he's not busy writing, you can find him in the kitchen mastering new dishes.