Guest posting is a great online marketing strategy. By writing content for authoritative sites, you actually increase awareness of your brand and help establish authority. You can also increase your organic traffic and generate leads. And with high-quality traffic being diverted to your website, you can increase conversions, too.
But guest posting is not as simple as writing a blog post and submitting it. You'd need to reach out to authoritative sites first for them to allow you to submit in the first place. It's their way of controlling, not just the number of submissions, but also the quality.
So how do you reach out to the authoritative sites? Enter, cold outreach,
Cold Outreach
Simply put, cold outreach is the process of reaching out to people you have had no prior interaction with. You can do this in several ways. Some companies, for example, cold-call prospects en masse to sell. Others use social media, and send messages via LinkedIn, for example.
When looking for guest post opportunities, though, by far, the most effective way of reaching out to websites is via email. Just look at Radicati's email usage forecast for the coming years:

Source: Radicati
And those millions of users are more likely to include the editor of the website you've been dying to see your name on.
How to Do It Right
When I said cold email outreach was effective, I meant this is the case if it is done the right way, of course. Writing the email is just one aspect of cold email outreach. There's a process you need to follow if you want your cold email to be opened, read and replied to. Here are the steps you need to follow:
1. Decide on the Website
According to Hosting Tribunal, as of 2020, there are about 2 billion websites. Of this number, around 400 million are active. Even if you assume some of those are merely personal websites that don't publish other people's work, you'd still be left with quite a large number of websites that do accept guest posts. Frankly, it just wouldn't be feasible to target all of those.
So make a selection of websites you'd like to target. Decide on whether you'd like to guest post on a popular site, or on a targeted niche website. If you're starting out as a writer, though, I suggest targeting the small websites that publish content you're familiar with. Once you build your portfolio, you can include in your outreach the more popular websites such as Huffington Post, Social Media Examiner and LifeHack.
Make sure the websites you decide to reach out to, however, rank higher than your own website in search engine results. Always remember your goal in guest posting: to help your own website gain exposure.
2. Look for An Email Addresses
Once you have your list of websites, it's time to create your email list.
Each website will have an editor you'd need to talk to to pitch your guest post ideas before you can write. For your outreach to be effective, it's best to look for this person and their email address. Website contact forms won't do. Your message will most likely never get through to the editor if you use the contact form.
Don't worry. Knowing whom to contact is easy nowadays. If you don't get all the information you need (email address of editor, editor's name) on the website itself, LinkedIn is a great source of information. Just type in the company, and you'll get the number of employees of that company who are on LinkedIn.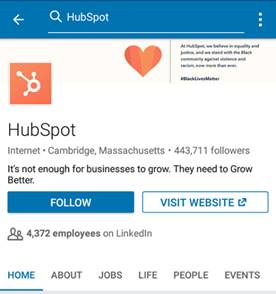 Just click on that and look for anyone from the company who's an editor or a writer who can refer you to the editor. If you find their email addresses there, then good. If not, just type in their names in an email finder and the company domain.
3. Make that Pitch
Website editors get hundreds of emails on a daily basis so you need to stand out to get their attention. The email subject line is the first thing they see. If you personalize it, for instance, by including the first name of the email recipient, you increase your chances of getting your email opened. Marketing Dive reported open rates can reach as high as 50%!
But don't just focus on the email subject line. The email body is just as important. Here are some tips on how you should write that:
Use language that's casual and friendly.
Introduce yourself right away and explain why you're writing. If you've written for other sites, say so but don't sound arrogant.
Propose at least three guest post ideas you can write about. It's best to propose topics you're familiar with (more on this later).
Offer value. Don't make the email about  yourself.
End with a clear call to action. "Do let me know how that sounds" is good. You're basically telling the editor to reply to your email but in a friendly and non-offensive way.
Before you send your email, make sure you run it through a grammar checker. You don't want the editor to outright reject your proposal because you wrote "your" instead of "you're." Don't worry, there are Grammarly alternatives you can check out if Grammarly is not within your budget.
Once you're 100% sure your email is free of errors, hit the "send" button.
4. Track Emails and Reply
Email tracking is crucial to the cold email outreach process. If you use a tool that notifies you if your email has been read, you can make an assessment of how your outreach fared in the first place. You want that assessment because you want to scale your outreach.
So let's say the tool tells you Editor Sally opened your email asking for guest post opportunities. If you don't get any reply, you can conclude the email template you sent her was not effective, and never use that template in your next outreach again.
If, on the other hand, you get a high percentage of people replying to one specific email template, then you'd know better than to do away with that template.
Those who replied to you will need to hear from you again regardless of the nature of their reply. If a website editor gives you the go-signal to write, thank that person and give some sort of deadline as to when you will submit the post. If the website editor tells you to tweak your guest post ideas a bit, do just that.
If you don't get replies from some of the websites, don't lose hope. You can always try again another time.
5. Write that Guest Post
Once a website editor approves your guest post idea, it's time to write.
Before you start pounding on that keyboard, though, go to the website you're guest posting for and check out its content. You want to know the writing style, and the length of each blog post so you can imitate these. Look at the guest post guidelines, too. Make sure to follow them when you write. Follow tips on presenting content in the best way as well.
You need to focus on your writing because even if you got the green light for your topic, your final output can still be rejected. That's why it's always  best to pitch topics you're familiar with. If the editor approves the topic, you won't have any problems writing the content.
Run your final output through a grammar checker again, just to make sure it's error-free. Make sure the final output also contains links to relevant blog posts already published in that website. Then submit.
Secret To An Effective Guest Post Campaign?
Don't believe anyone who tells you there's a secret to an effective guest post campaign. The truth is, there isn't any. Everyone knows strategy is key to cold outreach that generates guest post opportunities.
So have that strategy in place. Know where you're going with your outreach and execute. With hard work, I'm sure you'll land those guest post opportunities in no time.
---
About the Author:
Nico is an online marketer and the founder of Launch Space. He helps companies develop their digital marketing strategies and make money blogging. He's worked with everyone from Fortune 500 companies to startups helping them develop content marketing strategies that align with their business goals. Follow him on Twitter @nhdprins.